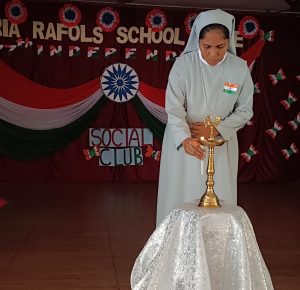 Dear Parents, teachers, students and well wishers,
I extend to you all a warm welcome to Maria Rafols School website. I hope this initiation to website will assist in enhancing the school culture furthering the school's growth and evolution, enabling it to interface with the networked world for efficiency and effectiveness.
" Catholic education aims not only to communicate facts, but also to transmit a coherent, comprehensive vision of life, in the conviction that the truth contained in that vision liberate students in the most profound meaning of human freedom ".           – St. Pope John Paul II
In his quote, St. Pope John Paul II very powerfully captured the wisdom about the education that transmits a coherent and comprehensive vision of life. Keeping this in mind the Maria Rafols School is launching into the digital revolution that will transform every aspect of students' life in the class room and outside.
Education is one of the means to transmit the Love of God to the human beings. Inspired by the teachings of Jesus and our Foundress and Patroness of our School Blessed Maria Rafols and with our Motto, "We educate only out of love" ,We hope to achieve this by: Igniting the light within, respecting the sanctity and dignity of every human life, building a civilization of Love, Faith, Culture, Values and Ecological consciousness, channelizing the energies of the youth towards character formation and committing themselves to the welfare of the society according to the changing trends, thus making the universe a better place to live in.
The school has its clear vision and mission. Inorder to accomplish our vision and mission, we take as much effort as possible. And this is carried out with certain pedagogical criteria and a concrete methodical line that promotes: a personalized and open education to everyone, intellectual development of the person, cultivation of the affective dimension, the capacity of expression and creativity, a flexible and open methodology and the incorporation of the Technology of Information and communication to the educative Process.
"I am not at all interested to become just a doctor or an engineer or a scientist….! But someone who would sow seeds for a great harvest of a Total Human Transformation"                   – Swami Vivekananda
The talents, skills and abilities of each student need to be identified, nurtured and encouraged so that he/she is able to reach greater heights. Students need to be provided with a platform to think, express and exhibit their skills.  It is necessary to empower them to negotiate several issues that confront them with the teacher being a facilitator. Our teachers strive to impart life skills needed for students' self – development with highly resourceful faculty.
Pope Francis says that, "the mission of schools is to develop a sense of truth, of what is good and beautiful" .This is what we are inculcating in the minds of students, through curricular, co-curricular and extra-curricular activities in our school.
          "Wake up! Move up! Never Ever give up your Vision and Mission" -Swami Vivekananda
Together with our stake holders, we can and we will achieve our Vision and Mission.
Wishing you, all the best.
Sr. SUBHA MARY.X
Principal